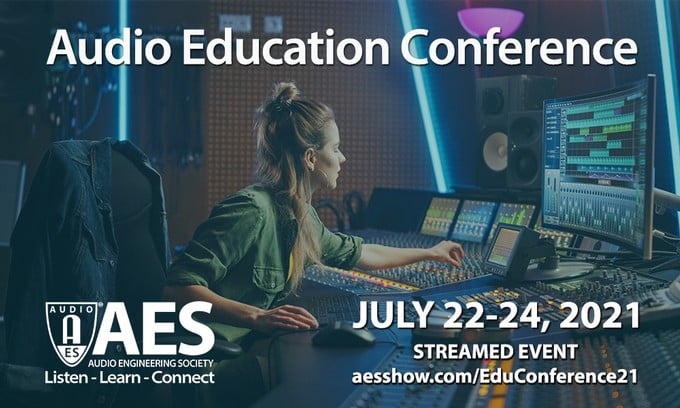 — Nieuw aangekondigde keynote spreker en extra programma-hoogtepunten ronden drie dagen intensief audio-educatieprogramma af —
De Audio Engineering Society heeft voorlopige programma-hoogtepunten aangekondigd voor de komende AES 2021 Audio Education Conference, die online plaatsvindt van 22 – 24 juli in US Central Daylight Time. Het evenement van dit jaar zal bestaan ​​uit peer-reviewed papieren presentaties, workshops, dagelijkse plenaire evenementen en speciale gastpresentaties gericht op de meest effectieve audio-educatie-technologieën en -technieken, waaronder een nieuw aangekondigde keynote door iZotope CEO en mede-oprichter Mark Ethier. Audiodocenten worden aangemoedigd om zich vóór 1 juni te registreren voor Early Bird-tarieven. Sponsoren van evenementen zijn onder meer Dolby, Focusrite, IMES (Iron Mountain Entertainment Services), de Recording Academy Producers and Engineers Wing en Veva Sound, met extra ondersteuning van Middle Tennessee State University (MTSU).
Nogmaals, audiodocenten van over de hele wereld zullen samenkomen voor een meeslepende educatieve ervaring, waarbij ze topmensen in het veld laten zien terwijl ze inzicht bieden in de fijne kneepjes van het lesgeven in audio in verschillende persoonlijke, virtuele en hybride omgevingen. Organisatoren van de conferentie zijn onder meer de medevoorzitters van het evenement, Bill Crabtree en Michael Flemming van MTSU; Papers Co-voorzitters Jan Berg en Jason Corey; met extra steun van Jim Kaiser, Dr. Doyuen Ko, John Krivit en Mark Rubel.
Er zijn ook verschillende aanbevolen presentaties aangekondigd:
Keynote door Mark Ethier
Ethier is de mede-oprichter en CEO van iZotope, een toonaangevend audiotechnologiebedrijf gevestigd in Cambridge, MA, dat intelligente audiotechnologie ontwikkelt waarmee muzikanten, muziekproducenten en audiopostingenieurs zich kunnen concentreren op hun vak in plaats van op de technologie erachter. . Als eerst muzikant, brengt Mark een muzikantgerichte gevoeligheid in iZotope's benadering van het bouwen van muziekinstrumenten – waarbij belangrijke elementen van traditionele studioapparatuur naar voren worden gehaald en tegelijkertijd wordt geïnnoveerd op nieuwe digitale mogelijkheden. Onder zijn leiding blijft iZotope de grenzen van digitale signaalverwerking verkennen, gebruikmakend van moderne technologieën zoals machine learning, deep learning en music information retrieval (MIR). Deze toewijding komt voort uit Ethier's achtergrond aan het Massachusetts Institute of Technology (MIT) als een dubbele major in zowel computerwetenschappen als muziek. Ethier is lid van het Boston Committee voor de New York Chapter van The Recording Academy® en de Audio Engineering Society, en is ook lid van de Raad van Bestuur van The Record Co., een non-profit muziekincubator wiens missie het is om de Muziekscene in Boston.
Hoogtepunten workshop en paneldiscussie
Twee actuele evenementen die onlangs zijn aangekondigd voor de AES Audio Education Conference, zijn de workshop "What the Masters Teach Us: Multitrack Recordings in Research and Education", met docenten Toby Seay (Drexel University), Kirk McNally (University of Victoria), Amandine Pras (Universiteit van Lethbridge), Nyssim Lefford (Luleå University of Technology) en Paul Thompson (Leeds Beckett University). De paneldiscussie "Create a Career with Credit: Curricular Approaches to Credits and Metadata" zal kansen in de sector bespreken met panelleden Deborah Fairchild (President, Veva Sound) en Casey Taylor (Veva Sound), en er wordt nog meer aangekondigd.
Research Papers Presentations
Presentaties over wetenschappelijk onderzoek en ontwikkeling zullen ook dit jaar een sleutelrol spelen in de AES Audio Education Conference. Aanbevolen onderzoekspaperpresentaties omvatten sessies "Inleiding tot muziekopname: een syllabus met cursusontwerpdetails en discussie", "Ambisonics in een kunstschoolcontext", "Female Audio Educators: Why All Audio Students Need Them", "Scaling Student Sessions – Syllabi Elements die de opnamesessie van één student mogelijk maken om het leerproces van alle studenten te bevorderen", "Acoustics Study in Audio Curricula, an Overview and Summary", "A Method for Program-Level Academic Review and Revision in Audio Education" en "Educatieve en programma-resultaten bereiken door Instrument- en apparatuuronderhoud."
Bekijk voorlopige programmadetails en presentatorinformatie en schrijf u nu in op AESShow.com/EduConference21.
CreditSource link